For your transportation to and from the airport, we recommend North Lake Tahoe Express.
Please note their pickup and drop-off times as you book your flight, as well as the notes below.
Use code WSIA2022 when booking for our group rate.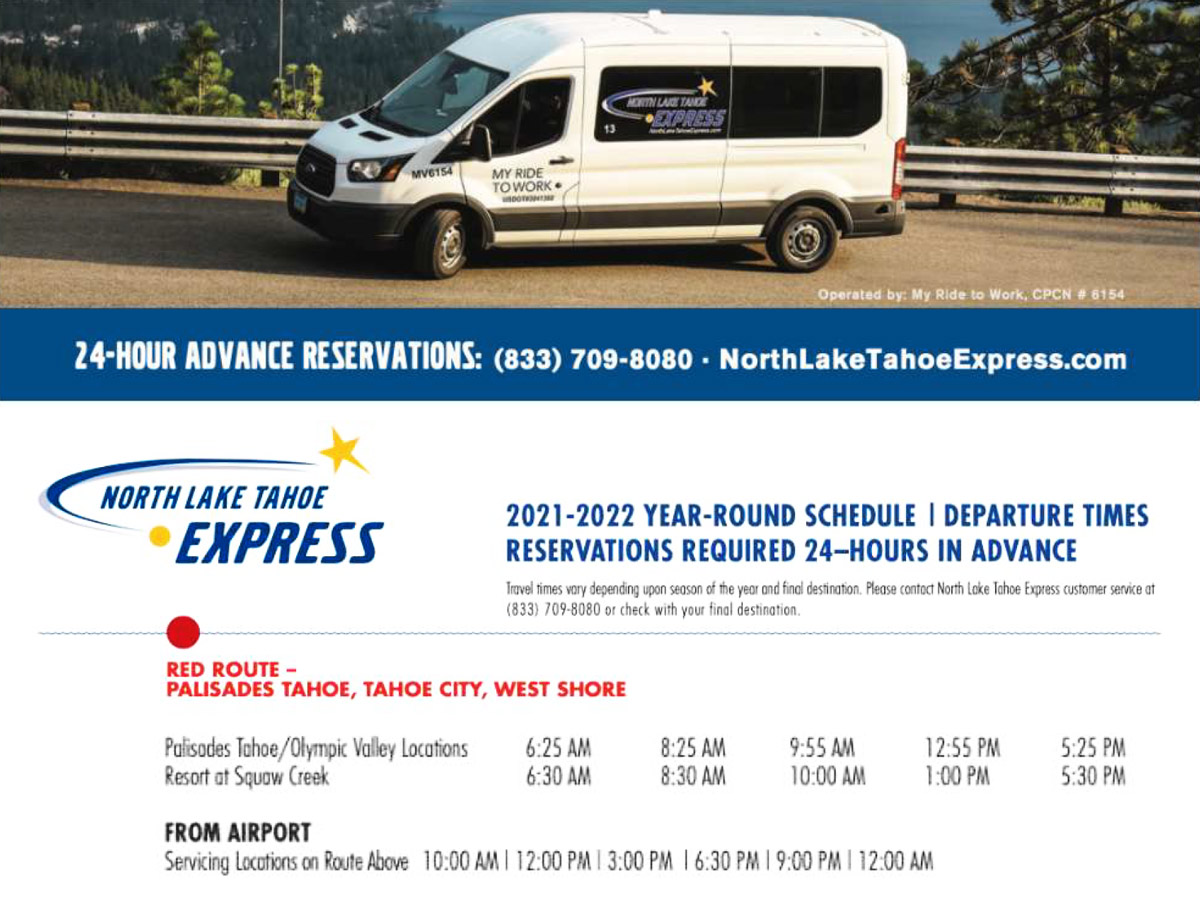 North Lake Tahoe Express
Reservations
Reservations are required at least 24 hours in advance of your North Lake Tahoe Express trip. Reservations can be made at northlaketahoeexpress.com or by calling (833) 709-8080. Use your group code (WSIA2022) at checkout to receive your discount.
Policies and Information
Travel time between the Reno-Tahoe Airport and North Lake Tahoe is estimated to be approximately 1 to 1.5 hours depending on traffic and weather conditions. Schedules are subject to change. NLTE cannot assume responsibility for making airline connections. NLTE assumes no responsibility for the acts or omissions of others, bad weather conditions, for lost or stolen baggage or personal items left behind. Timetables are approximate and not guaranteed. Drivers will not leave stops early. No stops will be made without reservations to lodging properties.
Airport Pickup Information
Please meet your driver outside of door D at the Reno-Tahoe International Airport. All passengers must be ready to depart at scheduled times.
North Lake Tahoe
Riders should be ready 5-10 minutes early to allow time for loading luggage. This is an EXPRESS service so the driver cannot wait if passengers are late. Departure times will be earlier if there is a winter storm. This is another reason why customer cell phone information is very helpful.
Cancellations and Changes:
Cancellations must be completed 24 hours prior to scheduled trip to avoid charge.
Cancellations and itinerary changes can be completed by calling (833) 709-8080.
---
Other Transportation Options
Note from the resort: Transportation in this area can be a challenge. Booking transportation in advance is highly recommended!
Uber or Lyft
Uber and Lyft are very unreliable and can charge you up to $250 each way from Reno to the Resort. They often accept your request and then change the wait time until eventually dropping your request all together and leaving you stranded.
Car Rentals
Car rentals would be arranged directly from car companies. Reno airport or Truckee airport. It's a good option if you want to go outside of valley for dining or excursions.
Private Car Service/Taxi
Car service is approximately $160-200 each way for Reno Airport to Hotel with up to 4 passengers. Prices will be more if you require a larger vehicle or have more passengers. Time of day can also change the pricing.
*Car service can also be arranged for traveling to and from excursions and restaurants once at the Resort. Need to book in advance with the concierge!
Private Sprinter vans/ bus 18-33 passengers:
This can be arranged with your concierge in advanced please.
Resort at Squaw Creek Shuttle for private events
This bus can be arranged through the front desk/concierge staff. Prices upon request.
Parking On-site at the Resort
The Resort at Squaw Creek has parking fees. Valet parking is $50 per night WOH Member pay $30.00 per night. Self parking overnight $20 per, day use non-overnight guest parking is $30.
Concierge Booking For You
We work with several taxi/car services. If you would like the concierge to make your travel arrangements please let us know in advance.
The following information is needed for our Concierge to book guest travel:
Name of traveler
Number of guests in party
Date of travel (both ways)
Airline name and flight numbers (both ways)
Special requests, ie child booster seats, traveling with golf clubs, extra large cargo, pets, etc.
The driver will collect payment directly from the customer. They will take cash or credit card.
Concierge Contact
Jill Ehring Sheehan
530-581-6610
jill.ehring@destinationhotels.com
Local Area Transportation
Free Tart Bus is the local bus in our area and runs all over the lake daily. See www.tahoetruckeetransit.com and download the app too! Doesn't go to the airport. This is for local transportation only.